Overall Aim of the CloudSocket Project:
CloudSocket can be formulated as "The Smart Cloud Business Process Broker", which comprises the discovery, orchestration, deployment and execution of services on the cloud. A learning cycle improves cloud individualization over time. This means that the level of integration has to be lifted from the technical to the business level. Currently, the model-based approach is prominent for this integration. A detailed analysis of the business requirements based on the phases plan, model, manage and measure is common. Business models such as business processes, business rules and workflows are aligned with IT models such as IT infrastructure and architecture.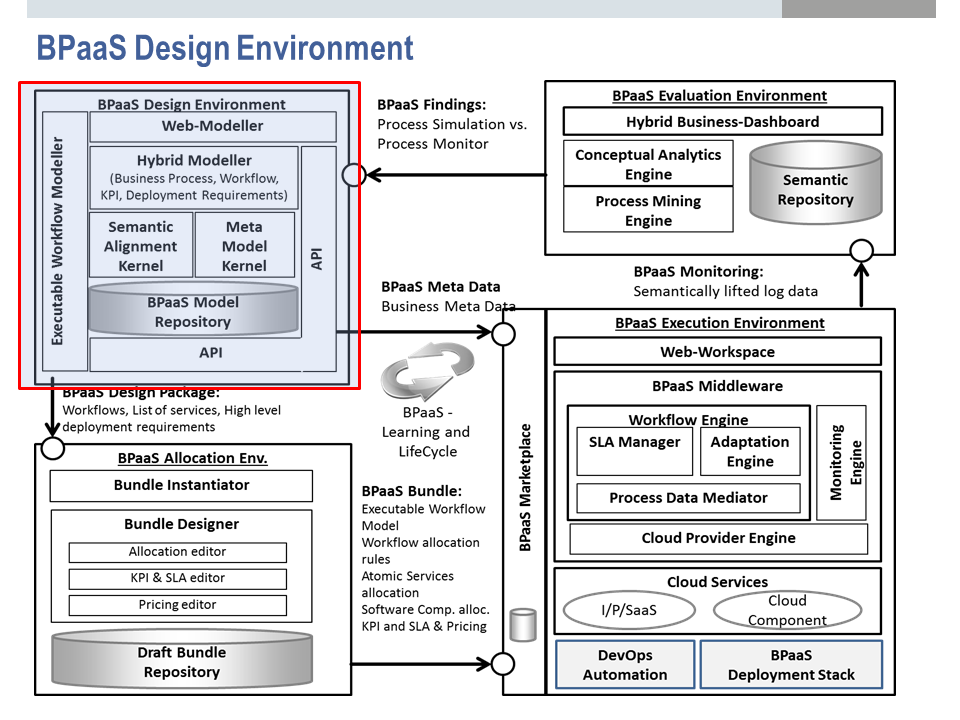 The above architecture depicts the role of the BPaaS Design Environment, as the modelling tool for:
business processes
(abstract / concrete) workflows
key performance indicators
deployment rules
as well as alignment features to link the business view with the modelling view.
For details on the technical architecture, see Document
For details on Business and IT Alignment, see Document
For a demonstration tour across all BPaaS Environments see DEMO TOUR
For a video on BPaaS Design watch DEMO VIDEO
The CloudSocket Project made also a series of webinars on "Digitalize your Business":
For more about Digitalising Business Processes - BPaaS Approach: SLIDES
---
Aim of the ADOxx.org Development Space:

Business Process as a Service targets the alignment between domain specific business processes that specify the working steps and the IT – in particular cloud – offerings that provide computer support. Hence, a huge semantic distance from domain specific business processes that exclusively describe the application domain, the abstract workflows that introduce IT-requirements, the concrete workflows that specify the orchestration of different cloud services to the cloud deployment and cloud infrastructure monitoring information needs to be bridged.

BPaaS Designer is the first modelling tool that combines all layers and provides layer specific tool support like cloud readiness checker and syntax checker on the domain level, cost and risk simulation on the abstract workflow layer, technical consistency checker and file interaction with workflow engines on the concrete workflow level and packaging mechanisms to package all necessary information into a so called BPaaS bundle.

ADOxx enables this hybrid modelling tool and enables further the proof of concept implementation of semantic support between the aforementioned layers.

Hence the first BPaaS design and monitoring environment has been implemented on top of ADOxx.
---
Project Website:
Contact:
For more information on the CloudSocket project, contact:
Dr. Robert Woitsch
BOC Asset Management
For more information on the ADOxx.org Development Space CloudSocket, contact:
Dr. Robert Woitsch
BOC Asset Management
---
The CloudSocket project receives research funding from the European Union's Horizon 2020 Framework Programme